Registration is OPEN
Join Florida's premier recycling association from June 27th - 29th, as we unite for two and one-half days of education and networking. Through your attendance, you will have the opportunity to network with leading environmental professionals from within the State of Florida and beyond, gain valuable education, meet with our sponsors and exhibitors who are leading the way in advancements in recycling and environmental sustainability.
Where: Hyatt Regency Coconut Point Resort and Spa, Bonita Springs, FL

When: Monday, June 27th - Wednesday, June 29th, 2022

Who Should Attend?
Environmental professionals from Local and State Governments, Private and Non-Profit Sectors, Program Managers, Recycling Coordinators, Directors, Managers, Consultants, Regulators, and those interested in the business and development of the recycling industry.
Registration is OPEN!
Registration includes: conference credentials, access to exhibit hall, two (2) continental breakfasts, two (2) am networking breaks, one (1) afternoon networking refreshment break, one (1) networking business luncheon, one (1) evening networking reception, and one (1) evening networking dinner.
Not a member? We've got you covered. Register as a member at the rate of $225 and start receiving member benefits today! Visit us online an join today at https://recyclefloridatoday.org/join-as-a-member/.

Direct Link to conference agenda -
https://recyclefloridatoday.org/wp-content/uploads/2022/06/2022-Annual-Conference-and-Exhibition-6.5.22.pdf



Conference Registration
Registration Rates - Virtual or in-person registration

Type
May 31st and Before

June 1st and After
Member
$ 425.00
$ 525.00
Non-Member
$ 525.00
$ 625.00
*Student (Member)
$ 175.00
$ 250.00
*Student (Non-Member)
$ 285.00
$ 300.00
Speaker/Moderator
$ 200.00
$ 200.00
*Student registrations must be made with a university or college email address.

The EXHIBIT HALL is SOLD-OUT.



Lodging Information:
The event will take place at the Hyatt Regency Coconut Point Resort and Spa in Bonita Springs, FL. When reserving your room mention "Recycle Florida Today" or us the link below. Group lodging discounts are available on a first-come, first-served basis for the group discount. Last day to book your room at the discounted group rate was May 26, 2022. Use the link below to find the best available rates or call the hotel direct.

https://www.hyatt.com/en-US/group-booking/NAPRN/G-FCYC
HYATT REGENCY COCONUT POINT RESORT AND SPA
5001 Coconut Road
Bonita Springs, Florida, USA, 34134
Tel: +1 239 444 1234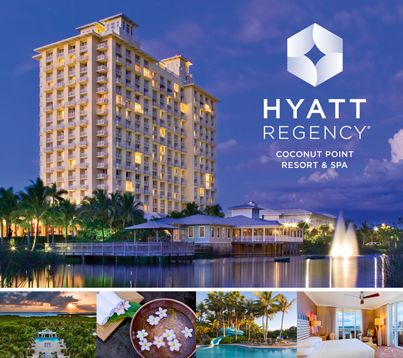 Click here to book your room at the group rate for Recycle FL Today Annual Conference and Exhibition or visit:
https://www.hyatt.com/en-US/group-booking/NAPRN/G-RECY
Room reservations must be made direct by using the link above or calling the hotel direct at (239) 444-1234 or utilize the link above.
IMPORTANT NOTICE REGARDING RESERVING HOTEL BOOKINGS
IMPORTANT – Recycle Florida Today, Inc., does not use a third party service provider to book your room and we will not call you to reserve your room.
We have no affiliation with these third party housing coordinators.
A few of these third party hotel and travel companies have been identified – Expo Housing Services, EHM (Exhibitors Housing Management), Convention Housing Authority, Global Housing Services Corp., Global Housing Expo, Corporate Booking Services and others. The only official way to secure your hotel room is directly with the Hyatt Regency. For questions contact RFT at (850) 907-1278 or by email at: info@recyclefloridatoday.org.